Uniform & Kit
Uniform and Clothing
Leven Valley School uniform is as follows:
Trousers (not jeans, cords, joggers or leggings) skirts, pinafore dresses, culottes and shorts: Mid grey
Blouse, shirts and polo shirts: white
Sweatshirts, woollen sweaters and cardigans: Royal Blue
Socks: white or grey
Tights: grey or black
Shoes: black or grey (not trainers)
Summer dress (optional): white and blue checked
PE & Sports Kit
PE shorts: Black or Navy
PE T-shirt: Pale blue (not a football top)
PE footwear: trainers
All clothing should be clearly marked with the child's name, this will not only help your become independent, but help staff reunite lost clothing with their owners!

Uniform Suppliers
We don't have a specific uniform supplier for Leven Valley uniform, but the following suppliers do offer our uniform with our embroidered badge/logo. Alternatively, you can buy uniform from a supermarket and sew a school badge on - badges are available from the school office.
Leven Valley PTA
The PTA have a nearly new uniform sale at most events or ask a member of the PTA. Alternatively, please ask at the school office.
Koolskools
Koolskools supplies ethical, Fairtrade cotton uniforms. We have sample items in school, orders are placed online and delivered direct to your address. Click here to place an order.
Coniston Corporate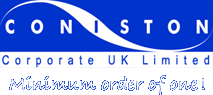 Coniston Corporate is based here in the Lake District. They have an online shop facility, parents can place orders & pay on-line, they then deliver free of charge to the school, or for an extra cost, deliver to your home. Click here to place an order.
Identity
Identity is based in Barrow-in-Furness. We have sample items in school, but it's best to visit the shop in Barrow to try on for sizes. Orders can be dropped off at school for collection by parents.
Badges and Book Bags
Book bags with our logo are available from the school office
Embroidered badges are available from the school office, these can then be sewn onto sweatshirts and cardigans.
School Uniform Vouchers
If you are in receipt of certain state benefits or tax credits you may be eligible for School Uniform Vouchers - click here to apply online or find out more.